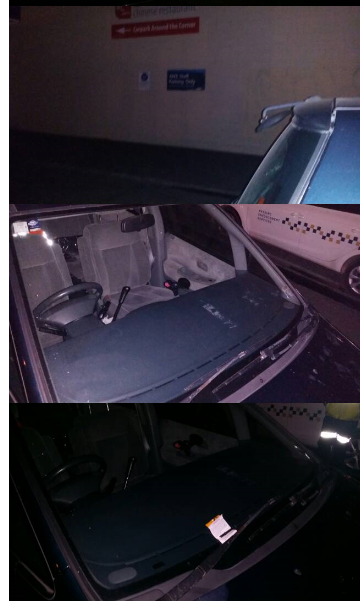 Parking enforcement services are still issuing tickets and  using the same old signage. They are fraudulently  alleging that there is a valid contract for  breach of terms and  conditions of payment . Please don't pay .
to the left are three of the  four pictures which make up the evidence for  one car owner   one was of the number plate which we left off and the other showed nothing but the side of the van , so how do these pictures prove anything  other than that the vehicle as parked.
Using the data that has been sent in to us we have calculated that they are potentially  making at least  2 million dollars a year  from fraudulent tickets .
Why is it a fraud .   Well   the signage on the car park   is issued   by a trading name    section 25 of the companies act  sets out the use of a companies name and starts off
A company must ensure that its name is clearly stated in—

(a)

every written communication sent by, or on behalf of, the company; and
(b)

every document issued or signed by, or on behalf of, the company that evidences or creates a legal obligation of the company.
So if signage  does not bear a company name cannot create a legal obligation  and  any one who tries to enforce a contract when there is none does so fraudulently .
Further  Wilson Parking  has a constitution and the constitution  states  how it can enter into contracts   and  guess what putting a sign up with a pseudonym   is not one of them .
As the owner of the vehicle you have absolutely no obligation  to tell them  who the driver was , if there was a valid contract it  would only ever exist between the  driver and  the company  legally  capable of entering into a contract.  Please be aware that  in the case of tickets from police  and  councils there is an obligation under law  for the owner to advise the identity of the driver, but that  does not carry through to private parking matters .
All the money that is collected goes off shore  the company record is here and shows that  the company is owned by WILSON PARKING HOLDINGS PTE LTD 80 Robinson Road, #02-00, Singapore 068898 , Singapore  but ultimately  owned by  genuine results limited Box 957 Offshore Incorporations Centre, Road Town, Tortola, British Virgin Islands.
The chances are that the tax take on this is  going   back to the   concealed  owners  through franchise fees  or similar .
The only real person involved in this matter and within grasp of the average Kiwi is Norman John CARTER
1/2 Renown Avenue, Greenlane, Auckland, 1051 , New Zealand, he is the husband of former city Councillor  Victoria Carter .
Norm  I think that it is time that you fronted up to your responsibility on this one .
several people who have  used  our  question but don't give any info   approach have    had their  tickets waived   we particularly like this one which started I have  taken  
just ask them for evidence  , they cant give you any  , they have to prove the matter   don't give them a cent.
We have lodged a complaint  with the SFO  we suggest that you do too.  The commerce commission apparently is not interested as they have done nothing with our complain to them .
New Zealand one of the least corrupt countries in the world .. we let foreigners fleece the population and we turn a blind eye . Its all in the name of  commerce $$$$$$$$$$$$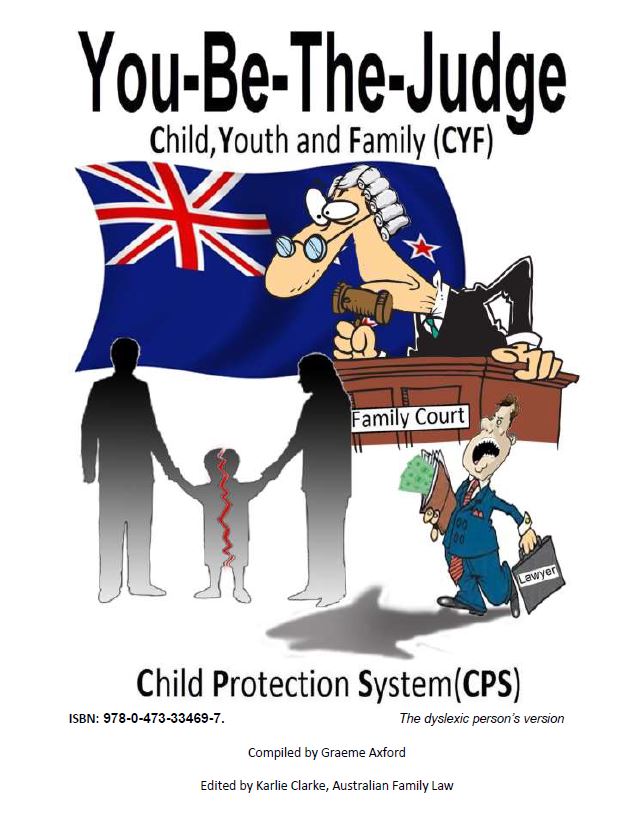 Graeme Axford has sent out a copy of his   book  You be the judge .
We have not read it as yet   and the views  expressed in the book are those of the author .
we are providing a copy  to any one who is interested in the interest of  freedom of expression and sharing of information
As Graeme says "Once you read this book it's over to "You-be-the-judge "what you make of it all."
The power of a book lies in its power to turn a solitary act into a
shared vision. As long as we have books, we are not alone.
Laura Bush
We are also  happy to  publish  free if  charge   any books  relating to civil justice  which  are free of copy right.
A copy of Graeme's book can be downloaded  here You-Be-The-Judge2015 Axford
It would appear that New Zealand is  over riding the  requirements of not only the universal declaration of Human rights  article 10 but also the  International Covenant on Civil and Political Rights article 14
Both state pretty much the same
All persons shall be equal before the courts and tribunals. In the determination of any criminal charge against him, or of his rights and obligations in a suit at law, everyone shall be entitled to a fair and public hearing by a competent, independent and impartial tribunal established by law.
Yet in our bill of rights the  only persons who get an assurance of a " fair and public hearing by a competent, independent and impartial tribunal" are those  who have been charged  with a criminal offence
In civil matters  you are on your  own   running the  gauntlet and there is nothing fair about  it  .
I have  sent an OIA to the minister of Justice  who has  said that there is no justice any way  .. so as   one  reader puts it..  then what is she minister of   Minister of In- justice ?  or perhaps minister of Milk promotion
Dear Minister of Justice,
the declaration of human rights at article 10 states
• Everyone is entitled in full equality to a fair and public
hearing by an independent and impartial tribunal, in the
determination of his rights and obligations and of any criminal
charge against him.
Yet our bill of rights only mentions the word Fair once
public hearing once ,independent once and impartial once
and that is in section 25 of the bill of rights which only relates
to criminal proceedings.
the universal declaration of rights does not confine the rights set
out in article 10 to just criminal matters but to all matters , the
operative word being "and "
section 25 states
• 25 Minimum standards of criminal procedure
• Everyone who is charged with an offence has, in relation to the
determination of the charge, the following minimum rights:
• (a) the right to a fair and public hearing by an independent and
impartial court:
• (b) the right to be tried without undue delay:
• (c) the right to be presumed innocent until proved guilty
according to law:
• (d) the right not to be compelled to be a witness or to confess
guilt:
• (e) the right to be present at the trial and to present a
defence:
• (f) the right to examine the witnesses for the prosecution and to
obtain the attendance and examination of witnesses for the defence
under the same conditions as the prosecution:
• (g) the right, if convicted of an offence in respect of which the
penalty has been varied between the commission of the offence and
sentencing, to the benefit of the lesser penalty:
• (h) the right, if convicted of the offence, to appeal according
to law to a higher court against the conviction or against the
sentence or against both:
• (i) the right, in the case of a child, to be dealt with in a
manner that takes account of the child's age.
By way of OIA please advise why the New Zealand bill of rights does
not conform to the universal declaration of human rights and
explain why do people in the civil jurisdiction and family courts
do not have the right to "full equality to a fair and public
hearing by an independent and impartial tribunal, in the
determination of his rights and obligations "
and Why section 25 only provides for people charged with an offence
and not for any one appearing in court in civil/ family
jurisdictions
This is particularly important to me as a claim of defamation was
filed agaisnt me , my defense of truth and honest opinion were
struck out because I failed to get $12,000 with a two week period
and the matter went straight to quantum . The issue involved being
a whistle blower on a matter of serious government corruption where
law enforcement powers were given to a fictional organization .
additionally
In family court every day people are denied a public hearing as
these hearings are conducted behind closed doors and through the
medium of confidentiality .
Please provide all discussion papers and documents which consider
the bill of rights and the obligations to be in line with the
universal declaration of human rights.
Yours faithfully,
Grace Haden
received from  Frank Jackson <frankpjackson@aim.com>
As Rolf Harris starts his prison sentence, the UK government announces a major enquiry into the cover-up of child sex abuse.
This is in stark contrast to NZ where the cover-up of child sex abuse involves the highest echelons of the judiciary, the NZ Cabinet, and even NZ's Governor General. More details are here, and here, and here, and here, and here, and here, and here, and here.
NZ authorities have been sitting on the evidence for a decade now, even though this NZ atrocity has been discussed in a debate in the House of Commons.
It is unlikely that the UK enquiry will recommend the adoption of NZ's methods i.e. the gagging of victim families who report under age sex abuse?
Editors Note.   Gagging orders in New Zealand are important as  through the introduction of confidentiality we can pretend that these things do not happen here  and there by  protect the perception of New Zealand being  least corrupt.
It is not about safeguarding our residents and our children it  about keeping up appearances  .
There are few of us who are prepared to speak up. we are alone we are singled out and targeted  and things which are wrong stay the same.
When we go to meetings such as silent injustice we hear  so many  speak up   and  voice their concerns, concerns which are identical to ours .. so why do we do this in a private setting and not  out in  public?
If we all spoke up together our voices would be heard   this clip sums  it up so well.. in  this case it relates to a company   but it can just as easily relate to government departments   and regarding justice in our courts .