Parking enforcement services
For several years  we have run this web site  to  update people on the international scam that has been operating  in a car park near you .
We have provided  this service free of charge  and we have tried to be helpful we have asked for nothing in return  but it appears that there is no cure for  stupidity and ignorance.
We have of late been inundated with phone calls  from people who cannot read   to make it easy    please  refer to  the points below  and do not ring us , if you have paid a fine   we  have not received it  it is not us Read Parking Enforcement Services
to do
remove  the ownership details from the car registry https://transact.nzta.govt.nz/transactions/PersonalInfoAccess/entry
Not Pay the  ticket
do not admit to anything
Do  not ring us 
send  letter .. yes you can email it  the clue is in  2 and 3 above
If you are grateful for this information  make a donation
Sample letter
Dear Parking Enforcement Services.
You do not exist
You have not entered into a contract with  me
I have no legal obligation to you  and you cannot make a demand for  money from me
I deny your claim
If you insist that there is a claim please provide  all evidence in a sworn affidavit  including
your contract with the owner of the property involved.
the  full affidavit  of the person issuing the ticket giving the circumstances  etc of your claim  including time date place  and   photographic evidence
I the owner of the vehicle have no legal  obligation to tell you who the driver was , but   when you provide full evidence of any  rightful contract with  the driver  I will asses the  situation.
Until these  details are provided I dispute  your claim .
Your name here
now  watch this    its too true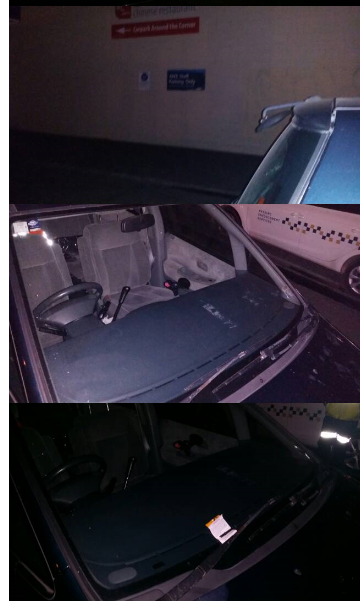 Parking enforcement services are still issuing tickets and  using the same old signage. They are fraudulently  alleging that there is a valid contract for  breach of terms and  conditions of payment . Please don't pay .
to the left are three of the  four pictures which make up the evidence for  one car owner   one was of the number plate which we left off and the other showed nothing but the side of the van , so how do these pictures prove anything  other than that the vehicle as parked.
Using the data that has been sent in to us we have calculated that they are potentially  making at least  2 million dollars a year  from fraudulent tickets .
Why is it a fraud .   Well   the signage on the car park   is issued   by a trading name    section 25 of the companies act  sets out the use of a companies name and starts off
A company must ensure that its name is clearly stated in—

(a)

every written communication sent by, or on behalf of, the company; and
(b)

every document issued or signed by, or on behalf of, the company that evidences or creates a legal obligation of the company.
So if signage  does not bear a company name cannot create a legal obligation  and  any one who tries to enforce a contract when there is none does so fraudulently .
Further  Wilson Parking  has a constitution and the constitution  states  how it can enter into contracts   and  guess what putting a sign up with a pseudonym   is not one of them .
As the owner of the vehicle you have absolutely no obligation  to tell them  who the driver was , if there was a valid contract it  would only ever exist between the  driver and  the company  legally  capable of entering into a contract.  Please be aware that  in the case of tickets from police  and  councils there is an obligation under law  for the owner to advise the identity of the driver, but that  does not carry through to private parking matters .
All the money that is collected goes off shore  the company record is here and shows that  the company is owned by WILSON PARKING HOLDINGS PTE LTD 80 Robinson Road, #02-00, Singapore 068898 , Singapore  but ultimately  owned by  genuine results limited Box 957 Offshore Incorporations Centre, Road Town, Tortola, British Virgin Islands.
The chances are that the tax take on this is  going   back to the   concealed  owners  through franchise fees  or similar .
The only real person involved in this matter and within grasp of the average Kiwi is Norman John CARTER
1/2 Renown Avenue, Greenlane, Auckland, 1051 , New Zealand, he is the husband of former city Councillor  Victoria Carter .
Norm  I think that it is time that you fronted up to your responsibility on this one .
several people who have  used  our  question but don't give any info   approach have    had their  tickets waived   we particularly like this one which started I have  taken  
just ask them for evidence  , they cant give you any  , they have to prove the matter   don't give them a cent.
We have lodged a complaint  with the SFO  we suggest that you do too.  The commerce commission apparently is not interested as they have done nothing with our complain to them .
New Zealand one of the least corrupt countries in the world .. we let foreigners fleece the population and we turn a blind eye . Its all in the name of  commerce $$$$$$$$$$$$
Prevention 
Ultimately prevention is the easiest option   go to  https://transact.nzta.govt.nz/transactions/PersonalInfoAccess/entry     and   have the ownership details of your vehicle/s  removed
If you are a company  you cannot remove the  details  see Information on opting out.  Companies however cannot enter into a contract  except through their  directors  or according to  their constitution . Therefore a vehicle  belonging to a company cannot  enter into a contract for parking    and this is especially so   when  the other party  is an undefined trading name  as int eh case of Parking enforcement services.
If you have had a ticket 
Immediately take  photographs of the signage in the  car park  and where your  car is parked
Check to see who the alleged agreement for parking is  with  to do this  check the name of the " organization" which alleges  that  there is a contract , this organization has to be   an identifiable  legal person . In this  case parking enforcement services is not a legal person   it does not disclose its identity on  the majority of signage that we have seen . It does identify itself as a division of  Wilson parking on the ticket  but that is too late  by that stage you  are being accused of being in breach of a contract which   is not a valid contract in the first place.
If you have taken  the  prevention step above.   simply screw up your ticket and file it in the nearest bin
If you have not taken the  step up above  or are a company   write in .. do not admit to being the driver    but simply  say that  you  wish to have evidence of the contract and how the vehicle breached it . tell the that once you have those details you will look into the matter
You will probably get  several replies to say  that  the ticket is valid  but each time  send in  an email to    admin@enforcementservices.co.nz      the evidence that  they  send you will never include  a start time of parking nor will it have  a contract with the  property owner  .   dispute that there is a breach of contract   and  you can also  charge them   for   your administration costs.   do this when thy first fail to provide evidence  tell them that  failing to provide conclusive evidence of a contract  and persisting  with the  claim will incur an administration fee of ….     they will accept these terms and condition  by responding and failing to provide full and conclusive evidence
You can also ask for a full affidavit of the alleged security officer who issued the ticket .
when they finally send it to  debt recovery  advise the debt collection firm that the contract is disputed    the claim will then disappear ,
To check  what details they have on you
go to http://ebreach-gtechna.pesnz.co.nz/userportal/ticketSearch.xhtml
enter the breach number and the car rego number
They show a signature of the so called security officer   and a number   the number is not the    registration number of  the security  guard  .
save this page as Pdf or if you don't  know how to   do that   do screen shots ( control print screen )  or use the  snipping tool ( windows) or equivalent in  apple .  Save these to your   hard drive for  further reference.
About Parking enforcement services Limited
Parking enforcement services Limited  registered on the companies web site  is not  the legal person  who    has signage up on many car parks.  We do not issue  tickets or ask for payment .
We do not consent to any one using our name .
If you have received a  parking ticket from parking enforcement services  please   firstly ensure that it has been issued by  Parking Enforcement Services and not  by  council  the following only applies  to  tickets issued by Parking enforcement services .
legal entity  -there is only one legal entity called parking enforcement services  and that is us.  we do not issue tickets  and we do not demand any money
On the web site  

pesnz.co.nz

  ultimately controlled by Wilson Parking New Zealand (1992) Ltd  there is a FAQ page the information on this page is manifestly  deceptive  misleading and intentionally wrong so as to  get you to  pay up when there is absolutely no legal obligation for you to do so . We will address each point as  follows
How do I pay my breach notice 
they say 

The truth is 
There is no breach you  have not breached anything  as  there is a reliance on  contract law  and Parking Enforcement Services is neither a legal or natural person and cannot enter into an agreement   or contract with any one.
25

Use of company name

1)

A company must ensure that its name is clearly stated in—

(a)

every written communication sent by, or on behalf of, the company; and

(b)

every document issued or signed by, or on behalf of, the company that evidences or creates a legal obligation of the company.
the request  for payment   is  to  a fictional  organisation  at the worst   and an undefined trading name at the best   Parking enforcement services  due to its lack of existence cannot demand any  thing from any one.
I have lodged an appeal but have not yet received an answer by the payment due date?
they say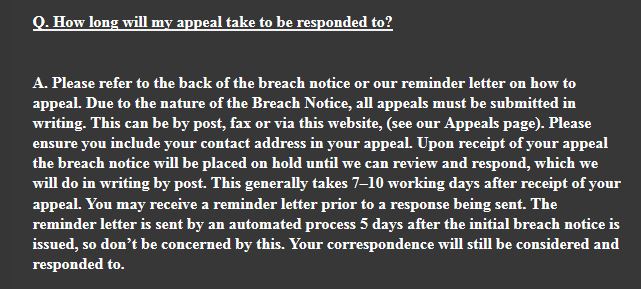 The truth is 
There is no breach  and you have no obligations  at all  to parking enforcement services. technically you don't even have to appeal  as there is nothing to appeal.
When you appeal they are wasting your time
Once you receive the  ticket or  the communications from them  by way of letter they will reveal that   the company is WILSON PARKING NEW ZEALAND LIMITED
be certain to make any demand for payment   from WILSON PARKING NEW ZEALAND LIMITED  so that it is enforceable
In the  appeal section of their web site https://www.pesnz.co.nz/go/appeals  enter your ticket number   and  write in.  You can also send an email  to admin@enforcementservices.co.nz.
Do not ring them  this does not provide a record of communications  and  you get to speak to a call center person who will not be able to help
You do not have to disclose anything to them   but simply ask them for evidence as to why they consider there was a breach and could they provide evidence .  In the letter advise them that failure to provide you with the full  evidence   will incur a $50 ( or what ever your time is worth ) charge for time wasted   and costs of $.. for every appeal you have to lodge to get the  full evidence .  the terms  and conditions  of this  contract  are accepted by them   by sending out  a computer generated response   and or a response which does   not supply the full evidence.
Are private parking breach notices enforceable?

The truth
Yes they  are enforceable  provided that the contract is between  two parties capable  of entering into a contract . It is probably true that the concept has been upheld in the disputes tribunal  but  has any one ever challenged the lack of standing of parking enforcement services.   To cover off this aspect please be certain that you take a photograph of the signage at the site where you were  allegedly breached.
Do you issue infringement notices, fines or charge liquidated damages?

The truth
Because Parking Enforcement Services are not capable  of entering into a contract  they cannot  sue any one  as only  real  and legal persons  can enforce contracts  or enter into contracts.  They cannot   charge the cost of enforcement as there is no  legal contract to enforce.
Are your officers trained?
The truth
Parking enforcement services  cannot  employ any one  therefore they do not have  any officers .
If you do see a person issuing tickets  in car parks with  Parking enforcement services  signage  you can approach the  person  and ask to see their  security guard licence . If they refuse they are in breach of the act  .
Do you operate under any industry related codes of practice?

The truth is 
that the wheel clamping  code  was signed in  2012.   the signatories to this were tournament parking Ltd  Valley Parking Ltd and Wilson parking Ltd . again we have some identity confusion which  slips in  Wilson parking New Zealand Ltd company #487351 was formerly  WILSON PARKING NEW ZEALAND (1992) LIMITED.     Wilson Parking Limited #1039337 was  struck off in 2005 as was WILSON PARKING NEW ZEALAND LIMITED #1039338 . the former  Wilson parking WILSON PARKING LIMITED (from 17 Sep 1985 to 03 Oct 1991) #272793 was struck off in 1993 .
Parking enforcement services #1017779 changed it sname in Feb 2014 to WILSON SECURITY NEW ZEALAND LIMITED  which is a separate legal entity to  WILSON PARKING NEW ZEALAND LIMITED  and is therefore not a signatory to the  clamping  code.  its all about identity  confusion .
When is parking enforced?

The truth is 
parking enforcement  services ( other than ourselves )  have no legal ability to enter into a contract and have no legal standing to enforce anything.
Who is responsible for paying a Parking Enforcement Notice?
The truth is 
Contracts are only enforceable  on the parties  who  enters into the contract.  unless the owner of the car has a contract with the driver to  accept liability  then there is  absolutely no way that   the contract can be enforced on the owner.  In  tickets issued by council and   Police this is  different as  they do not rely on contract law but  rely on legislation which  makes the owner responsible for  fines.
this legislation however  does not extend to private contract law   and the owner of a vehicle is  under no obligation at all for contracts which he or she was not party to .
What if I own the vehicle but I was not driving at the time of the breach?

The truth is
As above    Firstly   Parking enforcement services is not  capable of entering into a contract , secondly they cannot  sue or be sued as they are not a legal person   and thirdly  the oenr of he  car hs no obligation to a contract to which he was not a party .
How am I supposed to know all this?

The truth is
that if you believe every thing you read then  put the demanded sum in an envelope  and send it off more fool you  .
the reality is  that this is deception at its finest    We believe it is a full scale public fraud  which forces people to pay up   out of fear of ever growing penalties an  bad credit ratings.
Crimes act 240 Obtaining by deception or causing loss by deception should be considered as a complaint against the directors of  Wilson parking New Zealand  for this  entire venture. It is questionable that   valid contracts are in place for he management of many of the areas for which  tickets are issued.
Is there a File size limit on the website appeal submission form?
DONT TELL THEM ANY THING  ASK ONLY FOR INFORMATION
PLEASE PROVIDE EVIDENCE
Of the contract to  …what ever car park showing that yo have the legal ability to  enforce parking there .
Evidence of a contract between two legal  persons
full affidavit   from the person alleging  a breach  . Please note that the person issuing the ticket has no grounds for anonymity   he ust supply a full affidavit providing  full details of the alleged breach .
Civil justice  has taken the unusual step of changing its name to expose the  wide spread public fraud  of Parking enforcement services .
This is how the fraud works ( we believe it is a fraud as there is no legal ability  to  obtain money )
Parking enforcement services is a trading name  . Trading names cannot enter into a contract as a trading name  could be used by any one  and it is only a real or legal persons ( companies  etc)  which can enter into a contract .
It is on note that  not one of the signs which are relied upon  as a basis for a parking contract , identify a  real or legal person .
Section 25 of the companies act
1)A company must ensure that its name is clearly stated in—

(a)

every written communication sent by, or on behalf of, the company; and

(b)

every document issued or signed by, or on behalf of, the company that evidences or creates a legal obligation of the company.
From this it  obvious  that  the  signage which  is used to imply a legal contract , is not worth the   paper its written on.
The other  big issue is that parking enforcement services   does not own the land which it is contracting out ,  Since it does not have any legal existence  it could not   own the land nor could it  enter into a contract to  sub contract the  property or impose any conditions on it.
Its a bit like some one deciding to   take control of the parking on my neighbours property.  First they must have consent  from the owners and secondly there has to be a valid contract with them.
Take Eden quarter for example  where  the ticket I had involvement with was issued
The dominion road web site   clearly states
There is a large public parking area in the Eden Quarter area as well as on the side streets of bellevue Rd, Valley View Rd, Ewington Ave, Prospect Ave, Onslow Rd, Walters Rd, Bellwood Ave and Burnley Ave.  In addition there is ample parking behind the Dominion Rd shops on the western side between Bellwood Ave and Walters Rd.
The signage in the car park  However   says  that  the area is controlled by Parking  enforcement services.
The land  does not belong  to Wilson Parking New Zealand  Limited .  so who gave  who  consent to   place limitation and restrictions on this car park.
Apparently  your ticket can be waived if you  can prove that you have consent from  Eden Quarter…  so who on earth  is Eden quarter?  Try looking it    I have  and   guess what   it is yet  another undefined   term.
We repeatedly asked for evidence  this is what we got
I wrote in again and told them that the pictures proved nothing  and then i received this photo , a photo of the rear of the car, a photo of the warrant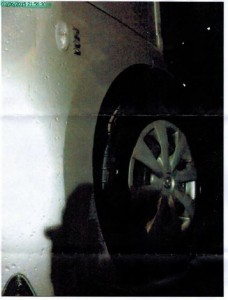 so this proved  that the car was wet ,warranted and had a chalk mark on the tyre at the time it was photographed which was purportedly 21.56 3 June 2015
this  is not evidence of any one having  entered into or breached any contract
for there to be a valid contract.
the person alleging the contract must show that they are  a legal or natural person have the ability to enter into a contract  for what they are alleging to contract out.
They must show  when you were parked  from    and to .
That you parked in breach of the alleged  agreement.
The person who makes the statement  must be identified  and able to give evidence  of what they  saw.
There cannot be a contract between the owner of  the car and  the person administering  the car park  if the owner was not  present when the vehicle entered the car park .
The owner of the car has no legal obligation to  the  car park enforcers  to identify the  driver.
What to do if parking enforcement services  gives you a ticket 
Use the  on line   form to  request  evidence.
You do not have to give them an explanation.  he who asserts must prove.
Get them to prove  that they have a contract and that  the  vehicle was parked contrary to  the contract.
tell them that if you get one more automated response  and no human intervention that you will automatically charge them   $x amount for wasting your time and that these terms and conditions are accepted by them   sending out another automated letter.
When they threaten  credit agencies advise the that the matter is still in dispute and that  by sending  this to a credit agency they agree to pay you  $x    for sending it off while the matter is in dispute.
when you get the credit agencies letter advise  them  that  the matter is in dispute
You will find that that will be  the end of the matter .
Why it happens.
It is all about economic measures  by having a computer spit out   standard letters rejecting your  objection  people will give up and pay up.
by threatening more costs and credit  agencies people  fear that they will get a bad credit report and pay up.
People treat these tickets the same as  council parking tickets  they are not  these are  from a privale  organisation which does not identify itself .
PLEASE BE CERTAIN THAT YOUR TICKET IS FROM  PARKING ENFORCEMENT SERVICES. IF IT FROM THE COUNCIL OR THE POLICE   THEN NONE OF THE ABOVE APPLY AS THEY HAVE LEGISLATION WHICH  SUPPORTS THEIR ENFORCEMENT.
PARKING ENFORCEMENT SERVICES LIMITED   ONLY EXISTS AS THE COMPANY WE ARE AND WE DO NOT ISSUE TICKETS
Other action 
Make a complaint to t he police   and to the commerce commission    you can be part of  a  combined complaint  by sending your details ,  a photo  of the car park sign  a brief  outline   and a copy of your ticket to Grace@verisure.co.nz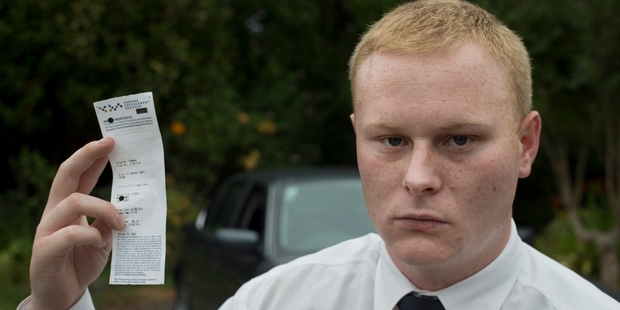 Civil Justice   will now be known as  Parking enforcement services , the name change has been registered with the companies office    our trading name will however remain  as civil justice
There is  a very good reason for this  as we wish to draw attention to the fact that  every day   possibly hundreds of people are   being made to pay  fines by coercion  through  fear due  threats of wheel clamping and extra penalties if they do not pay the demand. Civil Justice has decided to do something about  this
If you have had a  Parking breach notice from parking enforcement services  then you need to  k read our posts and above all DO NOT PART WITH ANY MORE $$$$$$   they have  absolutely no right   to your money .
There was once a company  called Parking Enforcement Services Limited     it existed between  13 July 2009   until 28 February 2014 when it changed its name to WILSON SECURITY NEW ZEALAND LIMITED  company number  1017779
Since then it appears that PARKING ENFORCEMENT SERVICES has become a division of Wilson Parking New Zealand limited  company number 487351.
This means that  there  is actually no legal person named Parking Enforcement Services  and   you actually have no idea  who  this is until you   get   a little  strip of paper which looks very much like a council parking ticket .
Everything  about this ticket makes you  think that you have  had an official parking fine  but this is not the case.
Unlike council parking fines which are backed by council by laws  these   tickets rely on   contract law  and that is where   it all comes unstuck .
If you have had a ticket  from  parking enforcement services   please contact us and we will provide you with  a step  by step what to do next.
I the mean time  you may wish to read various  associated news articles   You may note that  in some of the   articles  there are  officials who state that the fine is legaly binding, but circumstances changed  from  28 February 2014  when Parking enforcement services ceased to be a legal person .  More soon
Carpark firm Tournament defends $65 penalty
Driver's warning after parking fee battle with Wilson Parking
Legality of parking fines questioned by lawyers after woman's $65 fee for being 11 minutes late
Student challenges fine fee for broke-down car
Countdown customer's toilet trip a $50 shock
Wellington parking enforcement brought back in-house by Council
Parking ticket paid – fined two minutes later
For a day at the mall, add $45 parking fine